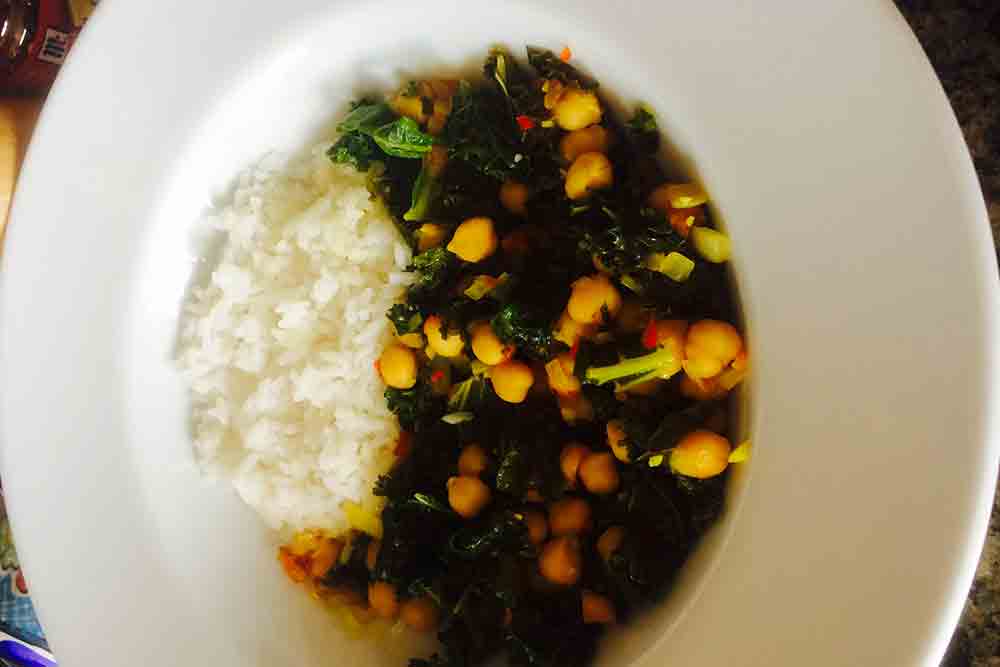 23 Aug

Chickpeas and kale Indian style

By: Chef Del Sroufe (Forks over Knives Cookbook)
Serves: 4
Vegan

The original version of this recipe has spinach instead of kale, I wanted to try it with kale and it worked perfectly. This dish is very aromatic, it has lots of spices and its full of flavor. It is delicious with basmati rice (white or brown). It will definitely keep you satisfied (and happy).
Ingredients:
1 medium yellow onion diced small
1 chili pepper minced
3 cloves of garlic peeled and minced
1 Tspn of grated ginger
2 tspns ground cumin
1 tspn of ground coriander
1 tspn turmeric
1 tspn fennel seeds
1 tspn red pepper flakes
1 large tomato finely chopped
1  1/2 cups of organic coconut milk
2 pounds of kale chopped (remove the stems)
2 cups of cooked chickpeas
Salt
2 Tspn of coconut oil
Directions:
Place the coconut oil in a saucepan over medium heat and once is hot (it doesn't need much time as this oil burns very quickly) add the onions. Cook for 8-10 minutes. Add a little bit of water to prevent the onions to stick to the pan.
Reduce the heat and add the chili, garlic, cumin, coriander, turmeric, fennel seeds and pepper flakes. Stir often and add a bit of water if needed for 5 minutes.
Add the tomato cook for another 5 minutes, then add coconut milk, kale, and chickpeas. Cover the pot and cook for another 10-15 minutes. Season with salt.
Enjoy it!