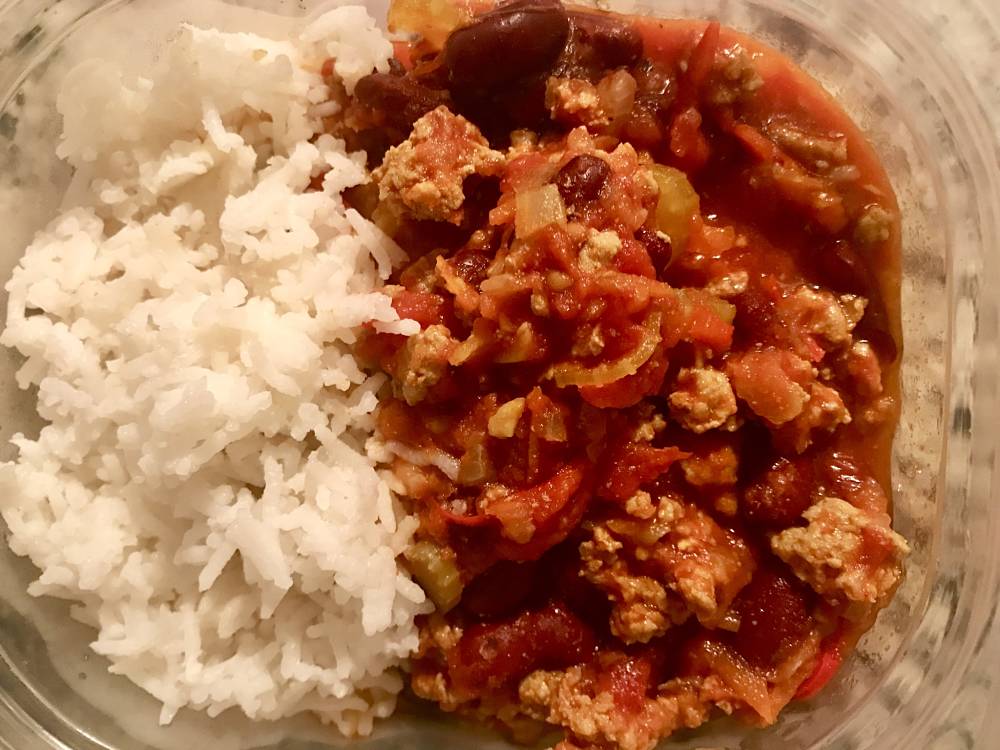 01 May

Chili with turkey my style

This chile with turkey is my healthy version of the popular dish chili con carne which has beef and therefore more saturated fat.

Turkey is a lean meat that you can find in different supermarkets. This recipe takes 40 minutes to make. It goes well with brown or basmati rice. The brand I chose is 99% lean 1% fat. It will keep you satisfied and with good energy levels throughout the day and the best thing is that it is very low in fat. The photo you see here, already has the meal ready to take for lunch at the office. Its even better the next day!
Ingredients:
1.25 lb. Jennie O turkey breast, extra lean
1 medium carrot peeled and grated or diced
3 celery stems chopped
1 medium sized white onion chopped
2 medium red chiles finely chopped and seeded
3 cloves garlic, chopped
1 can of organic tomatoes 700 grams
1 cup of red beans previously cooked in water and salt or can be replaced with a tin of low-sodium organic beans
2 drops of doterra marjoram essential oil
1 tsp of turmeric powder
1 teaspoon of dry oregano (optional)
Salt and pepper
1 tbsp olive oil
Instructions:
Sauté garlic and onion for 5 minutes over medium heat
Add the turkey in the pan and stir. Cook for 7 minutes or until the meat changes to a white color.
Add the carrot, celery and red chilis and cook for 5 minutes and finally add the tomatoes in their juice previously crushed a little to give more of a sauce consistency.
Cook for 15 minutes on medium low heat with the lid.
Add the cooked beans, stir and leave for about 10 minutes, place the turmeric and stir.
Remove from heat, add salt, pepper, dried oregano and drops of Doterra marjoram essential oil.
Done!!!
You can have it with white or whole basmati rice.
If you like this recipe, comment, share and tell me how you go! I would love to hear from you.
Bear hugs