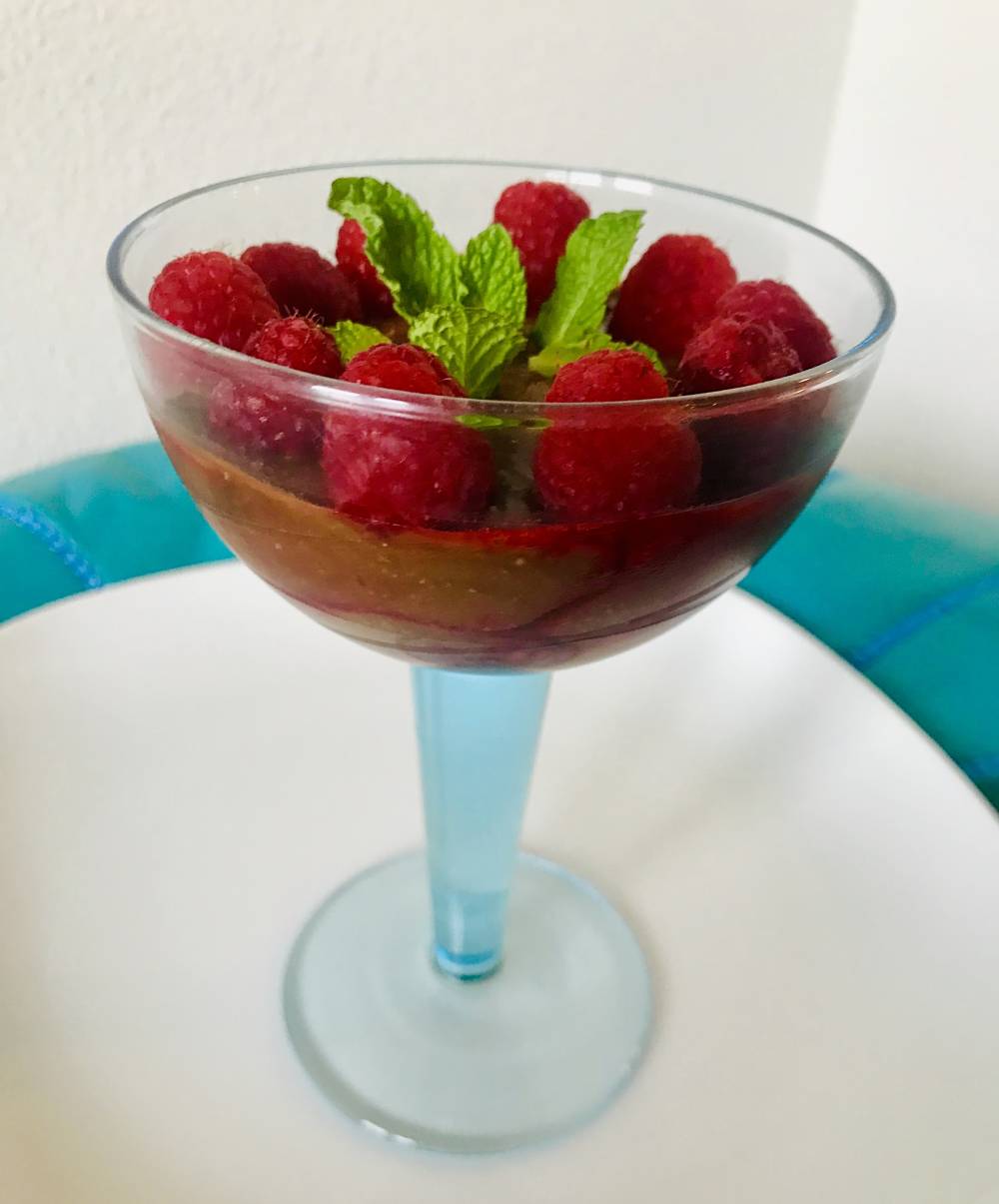 10 Jul

Chocolate mousse with rasberry compote

Hi my friends!

This was the recipe of my last cooking workshop in St Petersburg as we discussed sugar vs other natural sweetners. By the way, did I say I loveee chocolate? The main difference compared with other recipes is that all ingredients nourish you. This does not mean that you should eat a bucket of it! It will still add calories if you are looking to manage your weight.

Most conventional chocolate desserts are loaded with sugar dairy and artificial flavors. This recipe is creamy, sweet and very chocolaty and did I say highly nutritional? Healthy fats from avocados, cacao organic powder to estimulate your senses and grade A maple syrup.
Ingredients for the mousse
1/3 cup organic cacao powder
2 avocados mashed
¼ cup of maple syrup or more to taste
¼ cup of water (optional)
1 drop of Doterra peppermint essential oil (I love the flavor of peppermint with chocolate!)
For the compote
1 pack of frozen raspberries (you may also add strawberries and blackberries)
1 table spoon of maple syrup
1 teaspoon of cinnamon powder
For decoration
Fresh raspberries
Fresh mint leaves
Instructions:
In a food processor place the avocados, cacao powder and maple syrup and blend for 1 minute. Add water slowly only if you need to. It depends on the consistency you desire. Add 1 drop of Doterra essential oil – optional)
Separately, in a small pot, add 1 tablespoon of water and place in medium heat. Add the raspberries and stir until they get like a compote. Add the maple syrup, cinnamon power and keep stirring for 5 minutes. Remove from the heat, let it cool down.
Serving
In a glass add the compote first and spread evenly. Secondly, add the chocolate mousse and spread evenly on top and fill the glass.
Decorate with fresh raspberries and mint leaves.
If you had the chance to try it already, let me now what you thought about it. I would love to hear your comments.
For more recipes and personalized cooking plans, contact me. I will be happy to help. Follow me on insta at @ximenaosp for more ideas and tips.
Til later!