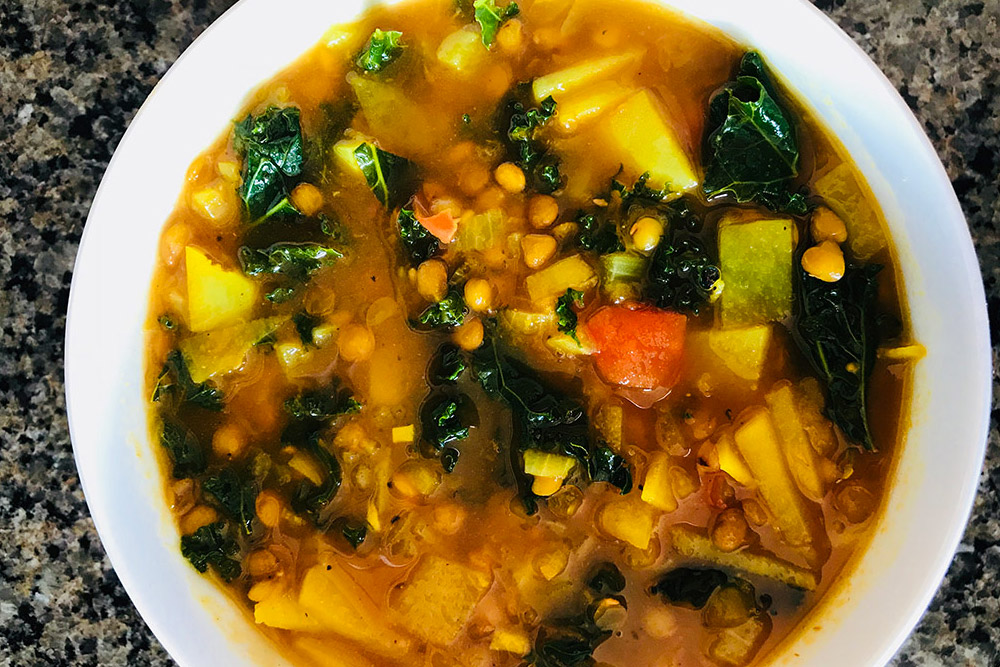 09 Feb

Easy kale and lentils soup

This soup is soooo easy to do and full of goodness. I love lentils so I decided to give it a twist adding kale and some species that a year ago I would have never thought of. I hope it inspires you to eat a healthy hearty soup. Its full of plant protein coming from the lentils and kale. You can eat it with brown basmati rice.

Servings: 4
Ingredients:
4 cups of water
1 Tbspn of olive oil
1/4 cup of organic tomato paste
2 bay leaves
1 Tbspn of grated ginger
1 Tbspn of turmeric
2 garlic cloved finely chopped
1 yellow onion chopped
2 ripe tomatoes chopped in squares
5 leaves of kale chopped (without the stem)
1 can of low sodium lentils
1 potato sliced and cut in small pieces
Salt and pepper to taste
Directions:
Place the olive oil in the pot in medium high, add the garlic and onions. Cook for 3 minutes. Add the grated ginger.
Add the tomatoes, and pan fried for 2 minutes.
Add water, tomato paste and stir a little. Add the potatoes and bay leaves and let it simmer for 10 minutes.
Add the turmeric and more ginger if you like it a bit more spicy. Stir a little and add the kale. Let it simmer for 5 minutes.
Finally, add the cooked lentils, stir a bit more and add salt and pepper to taste. Done!