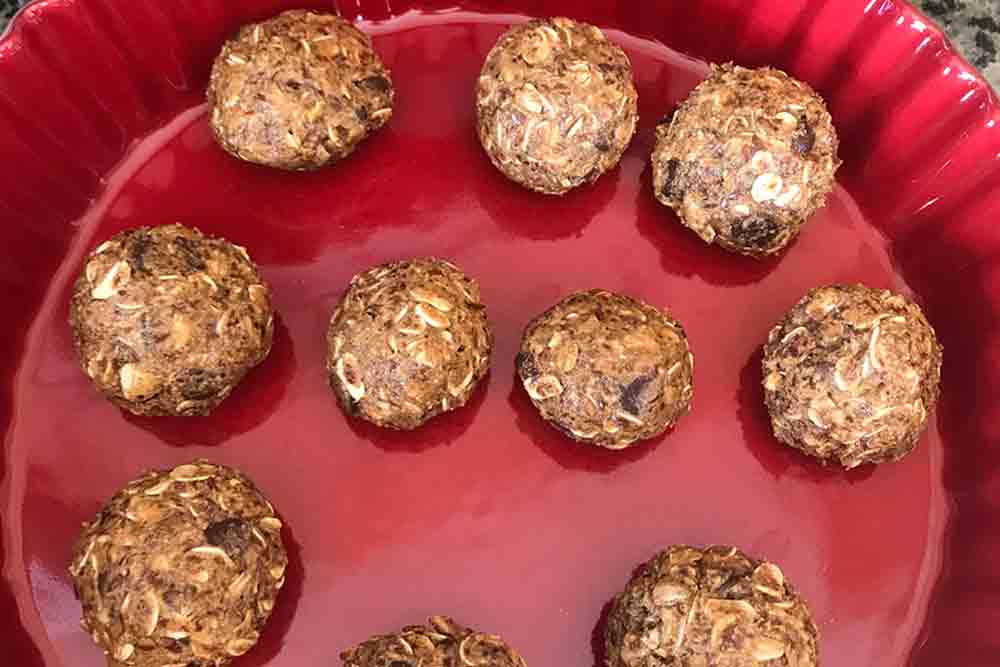 25 Oct

Energy balls

Last night I was having a conversation with a friend who asked me "what do you eat when you feel like having something sweet?" And that question got me thinking that this is a dilemma that most people have. Even if you don't have a weakness for sweet foods like I do, its useful to have some options that are easy and you can do at home. So this blog is all about the energy balls.

Basically its an energy bar made into a ball, full of protein, fiber and healthy fats (and other micronutrients).  The video I made to illustrate the recipe is in Spanish, but seriously, it's so easy to do that even if you don't speak Spanish, you will be able to replicate it at home.

See the video

Vegetarian, Gluten free
Servings: 10
Ingredients
1 cup of old fashion oats
1/2 cup of flaxseed meal
1/2 cup semi sweet chocolate chips  (or unsweetened shredded coconut)
2/3 cup almond butter creamy
2 Tspns of raw organic honey
Directions
Mix it all together, make the balls, when finished, cover the dish with cling wrap and place them in the fridge for 30 minutes.
This was too easy, right?
They keep fresh for up to a week in the fridge.
Nutritional facts
Oats – It helps to reduce bad cholesterol, and keep you satisfied for longer which means less snaking. Great source of fiber and protein (10 grams of protein in 1 cup)
Almond butter – Full of healthy fats which are great for brain function, they help to absorb vitamins A, D, E and K and they are also wonderful to help you lose weight (yes, they do). Also it is rich in protein, fiber and magnesium. (2 Tspns equals 6 grams of protein)
Flaxseed meal – It provides health fats and other nutrients like manganese and vitamin B1. (1 Tspn equals 8 grams of fiber)
Raw honey – Antibacterial, antiviral, full of antioxidants and its a natural energy source.
Semi-sweet chocolate chips – they have less sugar and between 40 – 60% of pure coco beans.
So when you are thinking what to eat before or after a workout, what to pack your kids for lunch next day or simply a snack to take to your office, try these power energy balls. I swear you will enjoy them. This balls are considered nutrient dense foods because they are packed with goodness at every level.
Remember that food is information and whatever you put inside you, will make a difference in terms of your energy levels and optimal body function. Nourish yourself with love and good food. It doesn't need to be complicated.
If you learnt something new, don't forget to share.
Until next time!