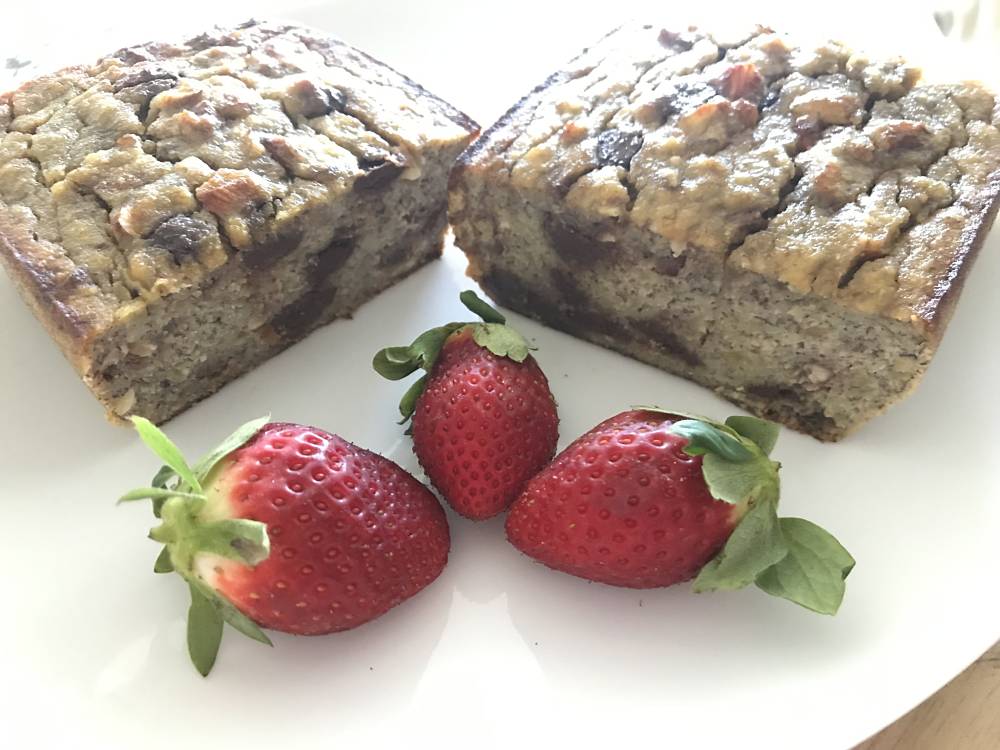 28 Jan

Gluten free banana bread

Banana bread is one of my favorite breads for an afternoon tea or for a quick sweet treat. This recipe is absolutely delicious and super easy to do, and did I say its gluten free? I found this recipe online at detoxinista.com and I made a few changes to it. Its high in protein because of the coconut flour and the nuts. So here it goes.
Ingredients
4 ripe mashed bananas
3/4 cup of coconut flour
5 eggs
2 tablespoons of maple syrup
1 teaspoon of cinamon
1 teasppon of baking soda
1/4 teaspoon  of sea salt
1/4 cup of semi sweet chocolate chips
1/4 cup of chopped almonds and pecans
Directions
Preheat the oven at 350F
Place all ingredients in a big bowl (except for the chocolate chips and the nuts) and whisk thoroughly
Once is fully blended, add the choco chips and nuts
Grease a baking dish with coconut oil and  pour the batter
Bake for 55 minutes (check at 45 minutes just in case your oven is too hot)
Done!
This recipe is high in protein and fiber so its a good option if you like to eat cakes and cookies. For more recipes and ideas to keep your health in balance, subscribe to my site and share this content if you find it useful. If you decide to make it, I would love to hear your thoughts.
And remember, I have exclusive recipes for those interested in personal nutrition coaching. When you are ready to take control of your health, contact me for your FREE health evaluation.
Til next time!