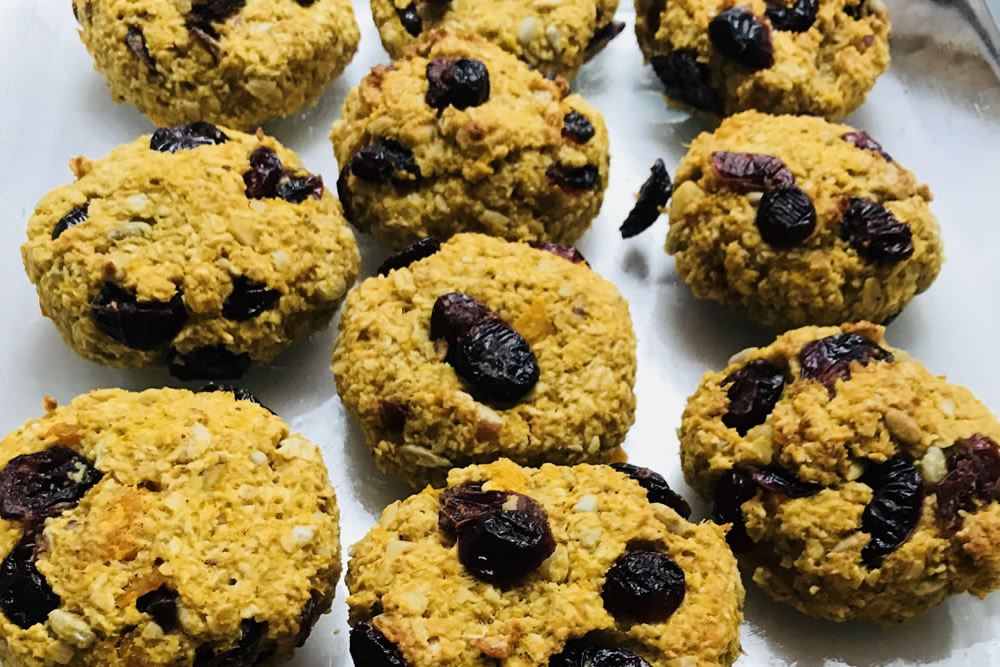 16 Nov

Pumpkin oat cookies

These beauties are densely nutritious, meaning each gram will nourish you 100%. Perfect for a breakfast on the go, mid afternoon snack or for your kids' lunch box. After 2 days, they will get a bit hard so I recommend to put them in the microwave for 10 seconds and you will see how delicious they are. (Thy will taste sweeter because it potentialized the sugar in the cranberries).

Dairy free, gluten free
Quantity: 10 small cookies
Time: 15 minutes
Ingredients:
1 cup of old fashioned oats
1 cup of quick oats (or blended oats)
½ cup of pumpkin puree
¼ cup of melted coconut oil
¼ cup of honey
¼ cup of flaxseed meal
2/3 cup of dried unsweetened cranberries
2/3 cup of pumpkin seeds (or other seeds that you prefer)
½ Tspn of sea salt
1 Tspn of pumpkin spice (ginger, cinnamon, cloves)
2 eggs
Instructions:
Preheat the oven 350F.
Mix well all ingredients in a bowl.
Using a wood spoon, take some dough from the bowl and shape the cookie.
Place the cookies in a greased tray and directly to the oven for 15-20 mins. Enjoy!