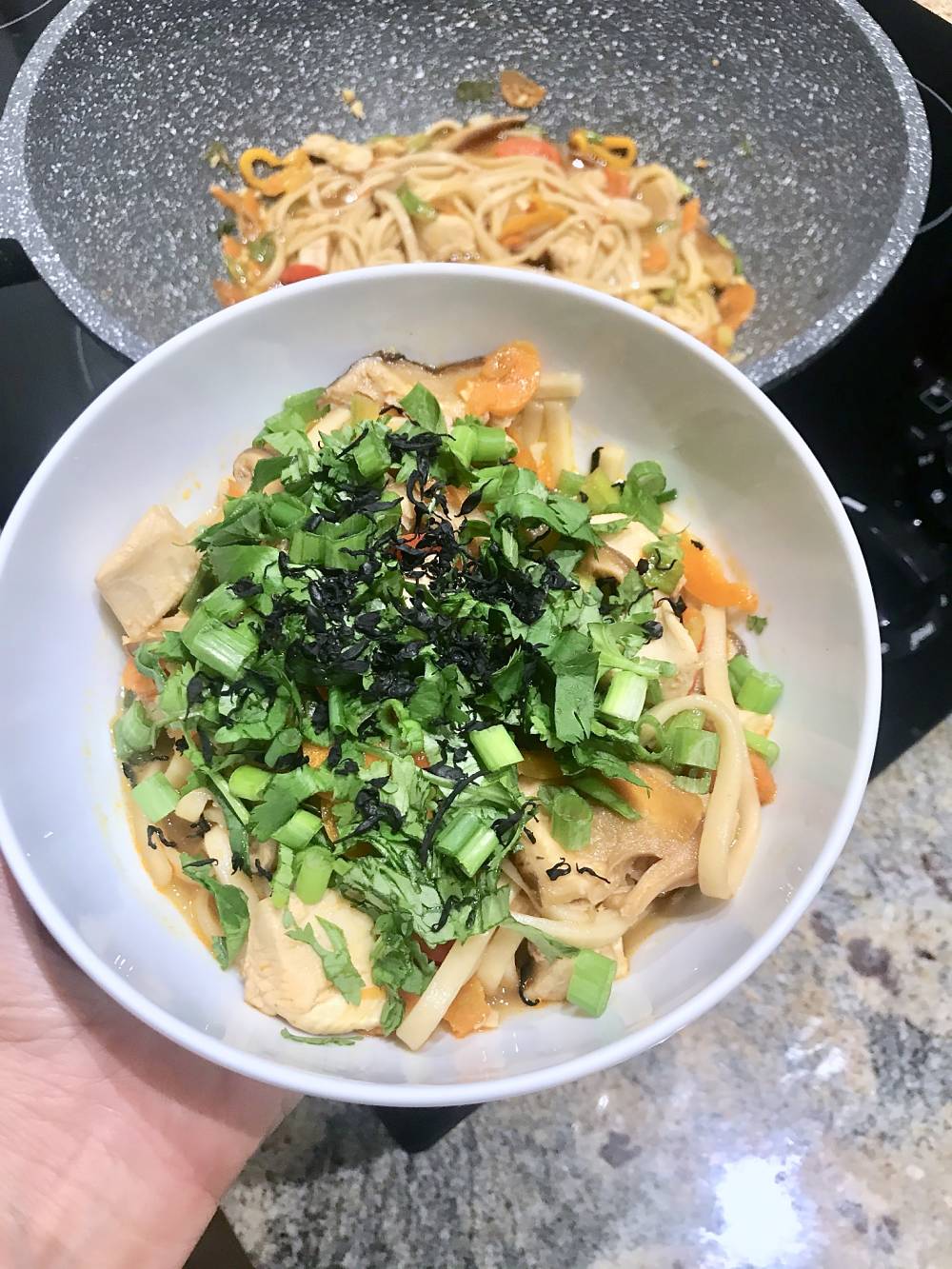 27 Nov

Shrimp or chicken ramen

A few weeks ago, I shared in my insta account this recipe and since some of you asked me for it, here it goes. The video is in my Youtube channel (in spanish) but I am sure you can get it easily by folloing these instructions. (and will learn some spanish in the process!)

Yields for two
Ingredients:
10 shrimp or 300 grams of organic chicken cut in cubes
Udon noodles
1 1/4 cups of chicken broth (or more if you prefer it a bit more liquid)
1/4 cup of aminos sauce or tamari sauce or low sodium soy sauce
2 Tbspn of siracha sauce
1 Tbspn of coconut sugar
1 tspn of grated ginger
1 tspn of garlic finely chopped
2 Tspn of coconut oil
1 cup of sliced shiitake mushrooms
Baby red, orange and yellow peppers sliced (or 1 medium size red pepper)
1 cup of spring onions chopped (separate the white and green pieces in a bowl)
1 carrot finely chopped
To add as a topping at the end:
Lemon juice
Dried shredded algae
Chopped cilantro
Chopped spring onions (only the green pieces)
Instructions:
In a wok pan, add 1 tbspn of coconut oil at medium high heat. Panfry the shrimp or chicken until its fully cooked. Set aside.
In the same wok, add the other tbspn of coconut oil and add the ginger, garlic and sirasha sauce and mix well for 3 minutes at medium heat. Add the mushrooms, onions (white parts only) and peppers and leave for another 5 minutes. Add the chicken broth, and coconut sugar, mix well and lower the heat to medium low and let it cook for another 5 minutes.
In a separate pot, cook the udon noodles as per the instructions of the package.
Add the animal protein to the wok and stir a little. Finally add the cooked udon noodles. Remove from the stove.
Once is served in a bowl, add the algae, cilantro and lemon juice. I tspn is enough but you may use more if you wish.
It is a easy and truly tasty recipe. My hubby totally loves it!
If you like this recipe, dont forget to share with others and leave your comments. I would love to hear from you.
Until next time!