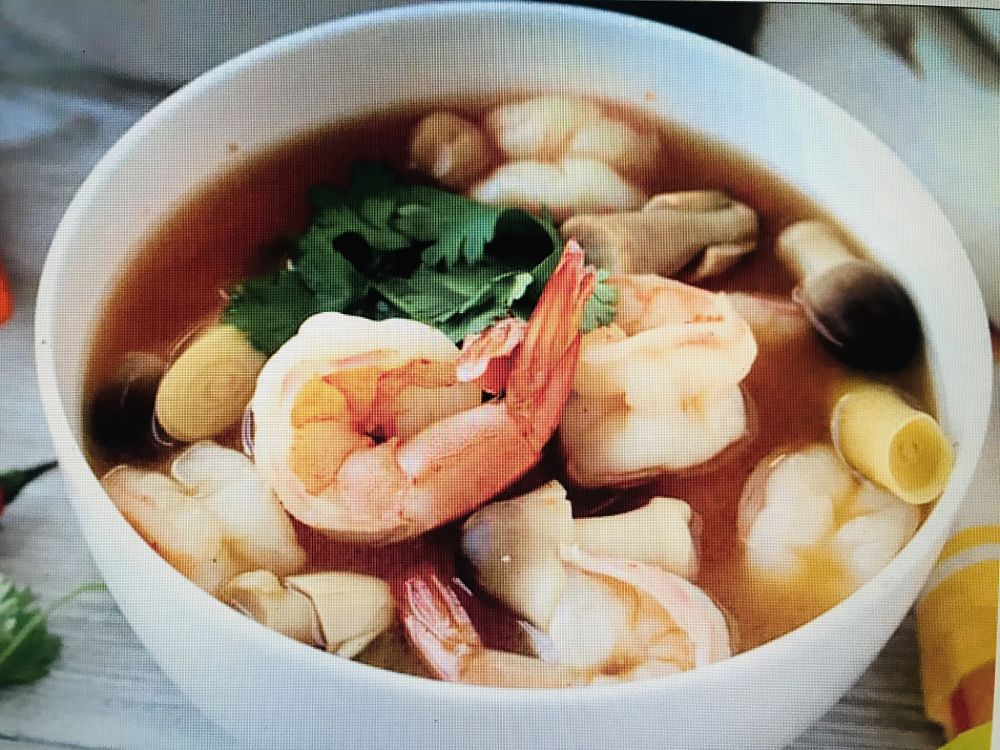 13 Dec

Tom Yum Soup

Tom Yum soup is a wonderful meal for winter time. You are at home, tired after work and want to eat something healthy that warms you up but that doest have so many calories. I get it, I have been there many times. This soup by lemonblossoms with definetely lift your spirit but will keep you weight down. I made some changes in the spirit of making healthier, so I am using tamari sauce instead of fish sauce, and I made my own chicken stock.
Ingredients
1.5 liters of chicken or seafood stock (Ideally you make it at home or choose an organic brand)
2 stalks of fresh lemongrass
4 inch lemon peel (unless you have kaffir lime leaves)
1 inch piece of ginger cut in pieces
2 red chiles sliced
6 Tbspns of tamari sauce
6 Tbsps of lemon juice
2 tspns of brown sugar (it needs it, and no other sugar replacement will taste tge same, so I dont recommend changing it)
2-3 tspns of red curry paste
1 cup of mushrooms cut on quarters
1 cup of tomatoes cut in quarters
1 pound of shrimp, peeled and deveined with tails on
A handful of fresh cilantro and chopped spring onions
Instructions
In a pot, bring the broth to a boil over medium heat. Add the lemongrass, lemon peel, ginger and chile peppers and lower to medium -low. Cover the pot and simmer for 20 minutes.
Add the tamari sauce, lemon juice, brown sugar and red curry paste to the broth and simmer for 5 minutes.
 Add the mushroom and tomatoes and shrimp and cook for 5 minutes.
Turn the heat off and when you serve, add the cilantro and chopped spring onions
If you cook it, let me know what you think. Did you like it as much as I did?