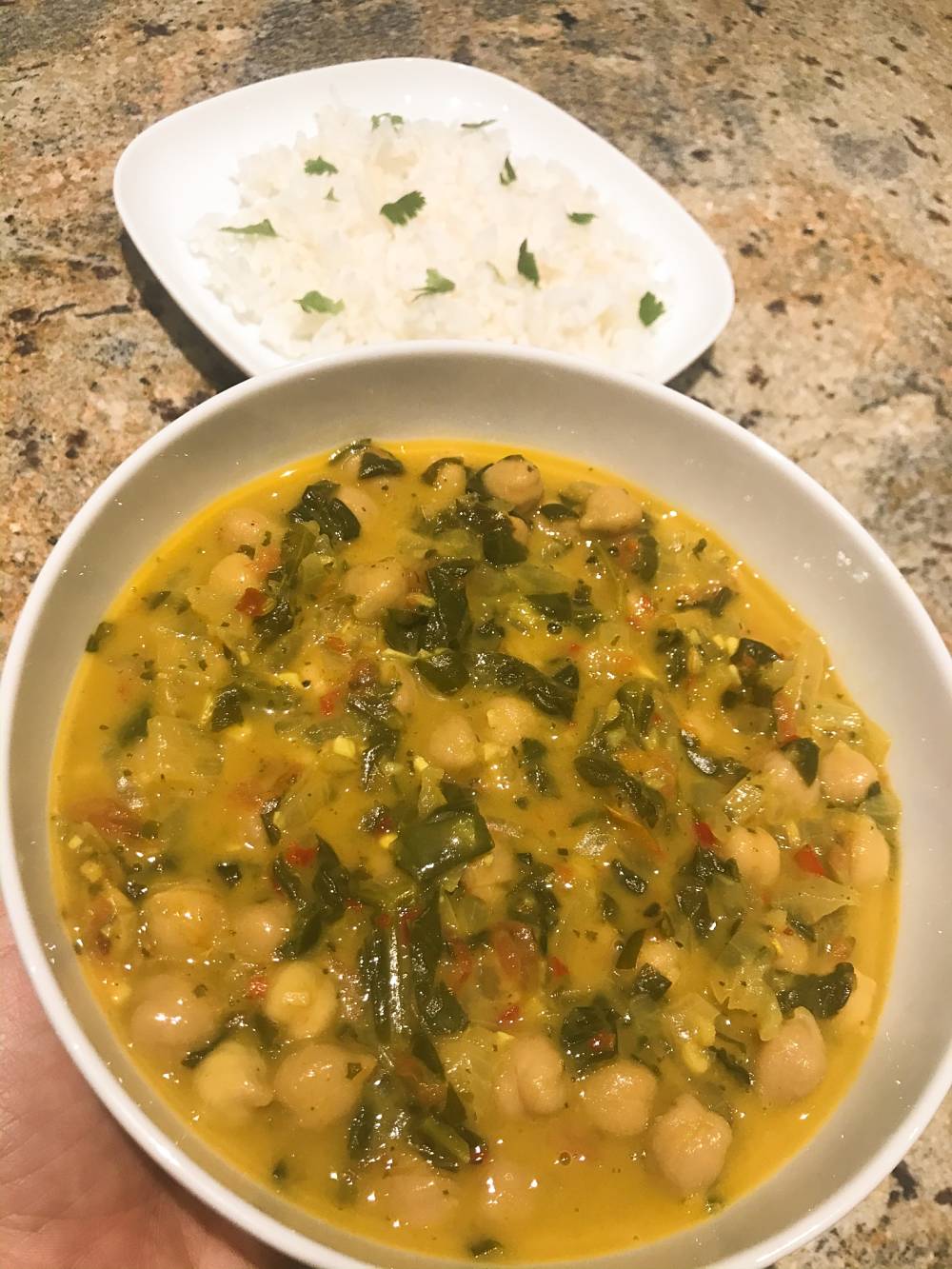 17 Sep

Vegan Chana Saag

By Chef: Del Soufre (Forks over Knives Cookbook)
Servings: 4

My hubby loves indian food and I am always interested in vegetarian and vegan options so this recipe was a winner. I made slight changes to the original recipe: changing the almond milk for coconut milk and adding coconut oil. As it has lots of spices, it is cooked the Ayurvedic way, which means the spices are cooked first (with the yellow onion) to release their amazing aroma and increase their properties.

I had the fortune of interviewing Dr. Pamela Popper who wrote this book with Chef Del Soufre about vegan food. I totally recommend it for those interested in this topic.
INGREDIENTS:
1 medium yellow onion diced small
1 chili pepper minced
3 cloves of garlic peeled and minced
1 Tspn of grated ginger
2 tspns ground cumin
1 tspn of ground coriander
1 tspn turmeric
1 tspn fennel seeds
1 tspn red pepper flakes
1 large tomato finely chopped
1  1/2 cups of organic coconut milk
2 pounds of spinach slightly blended
2 cups of cooked chickpeas
Salt
2 Tspn of coconut oil
Directions:
Place the coconut oil in a saucepan over medium heat and once is hot (it doesn't need much time as this oil burns very quickly) add the onions. Cook for 8-10 minutes. Add a little bit of water to prevent the onions to stick to the pan.
Reduce the heat and add the chili, garlic, cumin, coriander, turmeric, fennel seeds and pepper flakes. Stir often and add a bit of water if needed for 5 minutes.
Add the tomato cook for another 5 minutes, then add spinach, coconut milk, and lastly add the chickpeas. Cover the pot and cook for another 20 minutes on low heat. Season with salt.
Normally I would go for whole wheat rice but I think it tastes better with white basmati rice.
I hope you make it at home  and let me know what you think of this recipe.
Bear hugs and dot forget to follow me in insta at @ximenaosp and my Youtube channel Maria Ximena Ospina.
See you later!!